For over a half a century Cal Pacific Orchid Farm has been a wonderful source of floral enrichment to the beach town of Encinitas and its surrounding communities. With its own two and a half acre facility sitting on top of a hill the year round warm weather offers ideal conditions for orchids to thrive.
Cal Pacific Orchid Farm can trace its roots to the early 1970's when Wallace and Lynn Johnson established a wholesale green plant marketplace. They called it Cal Pacific Plant Farm and quickly established a reputation for producing the finest quality plants in San Diego County.
One of their more unique ideas was to establish a "Plant Hotel", where for a nominal fee, customers could bring their plants to be cared for and nourished until their bloom season where they could be taken back home and enjoyed. Such was the popularity of this unique scheme that they attracted clientele from far and wide, and on occasion the more eccentric characters. One such customer having left several plants with the Farm found he could not pay his bill, so settled his debt with Orchids!
Wallace fell in love with the plant and found he had a natural flair for nurturing them. Just a few years later they stopped selling other plants altogether and became exclusively a provider of Orchids.
In 2001 The Desmond family purchased the farm and in the process changed it's name to the more applicable Cal Pacific Orchid Farm. At the time Kathy Desmond had 25 years experience as a floral designer and quickly identified an opportunity in the market to create stunning arrangements with this beautiful and versatile plant. Today her designs can be found in hotel lobbies, banks, casinos and any number of corporate offices across San Diego County. As well as being ordered for weddings, funerals, graduations, celebrations and of course gifts for loved ones.
You are invited to visit Cal Pacific Orchid Farm conveniently located off of Interstate 5. You will be treated to an Aladdin's Cave of Orchids featuring 100s of species of orchids and an array of hybrid orchids too. Some of them are almost 100 years old!
It is fair to say that the Farm has come a long way in fifty years. And at Cal Pacific Orchid Farm we look forward to serving the community for the next fifty too.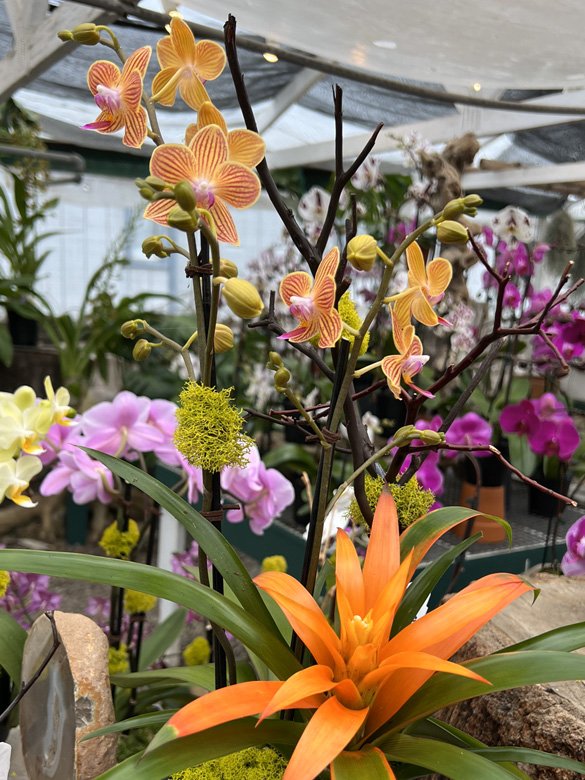 Follow us on Instagram for more inspiration
"The staff, experience, quality of flowers and variety are wonderful. I needed 20 orchids for a day of event and they made the process so smooth. The flowers are beyond gorgeous as well. Highly recommend!"
"This place has a great selection of Orchids in all their varieties. Their staff is very helpful and knowledgeable. My patients love the beautiful orchids in my clinic. My family also enjoys them at home. I have been going here for over two years now and I've been really happy with their orchids and service."
"We saw this Orchid farm on our way to San Diego on a trip and decided to stop on the way back to the hotel at the end of our day. It was so worth it. The employees were so sweet with my two boys while my wife and I were looking for a new orchid for my collection. I am so grateful of kind people, especially when they are gracious to my family."
Over 40 years of service in Encinitas, Ca.