When you purchase an orchid or an orchid arrangement from Cal Pacific Orchid Farm you will have the peace of mind that each one has been hand selected by our dedicated and highly trained team of orchid specialists. For special occasions such as weddings, anniversaries, birthdays, and Christmas parties. Or ongoing decorations at work, in the office or, hotel or bank lobbies, an orchid will add a touch of elegance to any space.
Orchids are renowned for their stunning and diverse range of colors, shapes, and patterns. Whether you choose vibrant and bold hues or soft and delicate shades, orchids add a touch of sophistication and natural beauty to any setting.
Orchids are often associated with elegance and grace. By incorporating orchids into your event, hotel lobby, casino, or office space, you elevate the ambiance, and create a more upscale and sophisticated atmosphere.
Orchids are known for their longevity compared to many other cut flowers. With proper care, they can maintain their beauty and freshness for weeks or even months. This makes them an excellent investment for your event or space.
Orchids come in various sizes and types, allowing you to choose the ones that best suit your specific space and theme. From compact tabletop arrangements to cascading hanging orchids, you can find options that seamlessly fit into your event's design or your space's layout.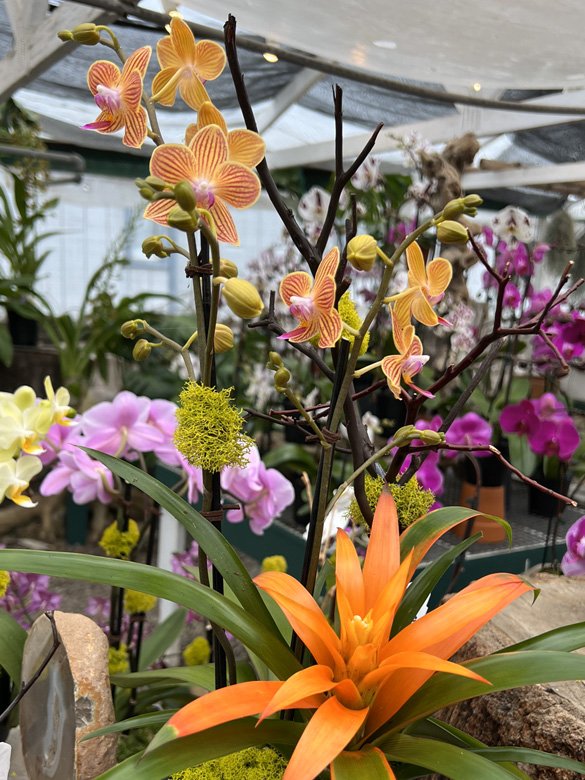 Follow us on Instagram for more inspiration
"The staff, experience, quality of flowers and variety are wonderful. I needed 20 orchids for a day of event and they made the process so smooth. The flowers are beyond gorgeous as well. Highly recommend!"
"This place has a great selection of Orchids in all their varieties. Their staff is very helpful and knowledgeable. My patients love the beautiful orchids in my clinic. My family also enjoys them at home. I have been going here for over two years now and I've been really happy with their orchids and service."
"We saw this Orchid farm on our way to San Diego on a trip and decided to stop on the way back to the hotel at the end of our day. It was so worth it. The employees were so sweet with my two boys while my wife and I were looking for a new orchid for my collection. I am so grateful of kind people, especially when they are gracious to my family."
Over 40 years of service in Encinitas, Ca.